- Like the title says, I have
five
four
three
two! dreamwidth invite codes. Drop me a comment if you want one, you don't have to be on my flist (but I'm blualbino over there too if you feel like friending me. That journal's all fic, though. (As opposed to this one, which is only mostly fic (also: I like parenthesis))).
-
HAPPY ALMOST BIRTHDAY, MISHA
.
I'm probably not going to end up posting tomorrow, so I'll just embrace the overlord's oddness and do it now. It's love either way, alright.
- I bought
one of these shirts
and wore it home today, and I actually forgot I was wearing it until a couple of giggling girls came up and asked me about it. I explained Prop 8 and they said: "oh, that's nice. Are you gay?" Cracked me up, but made me a little -___-? at the same time.
- I won a thing!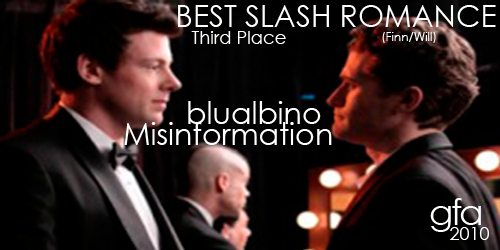 from the

glee_fic_awards
. It's kind of awesome <3333
- I GET TO SEE GREEN DAY LIVE ON MONDAY ASLDKASL;FAL;SFJ
-... trying to actually use my journal as a journal for once. It's sort of fun.